Since 1932 the Blackmores Group has been championing innovative natural health solutions and education services to bring wellness to people everywhere, every day.
Blackmores Institute, the Group's academic and research centre of excellence, knows better health literacy results in better health outcomes. As such, they set about developing an innovative training solution aimed at educating Thai product advisors to learn more about the benefits of complementary medicine and the Blackmores range.
Partnering with Guroo Learning, Blackmores Institute developed an eLearning suite that would provide advisors with the conversational tools and knowledge to support consumers with dietary and lifestyle advice.
Problem:
With the demand for complementary medicine having increased around the world, consumers are looking to learn more about it. To meet the expectations of their customers, Blackmores expressed a desire to increase the knowledge of their 220+ Thai Product Advisors so they could provide more health and wellness advice with confidence.
Solution:
In response, we collaborated with the Blackmores Institute to develop a suite of learning modules intended to educate Thai Product Advisors on the Blackmores Institute healthcare range whilst offering all of the convenience, flexibility and other associated affordances of a digital training platform.
The program was developed in English and translated into Thai to create a bi-lingual learning suite that satisfied the specific needs of the project. Visually appealing and culturally considerate animations were also created to improve participant engagement.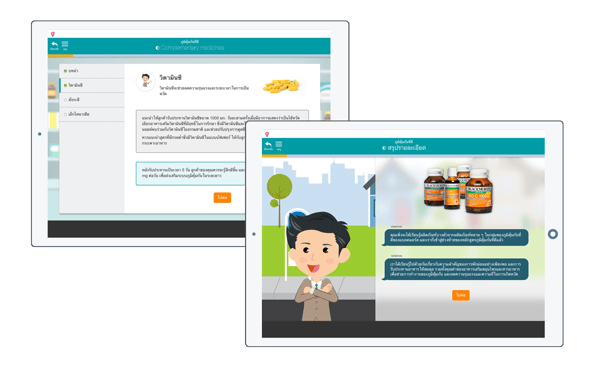 Goals and Objectives:
Product Training
Educate Product Advisors on complementary, over-the-counter medicine
Business and Sales Training
Provide users with insight into Blackmore's commitment to quality and sustainability
Increase the sales confidence of in-store product advisors, allowing them to provide
informed dietary and lifestyle advice to consumers
Learner Personas
Characters created to mirror the Product Advisory team
Participants spoke either English and/or Thai
Program Requirements
Bite sized,15-minute modules
Developed and implemented over a period of 4 months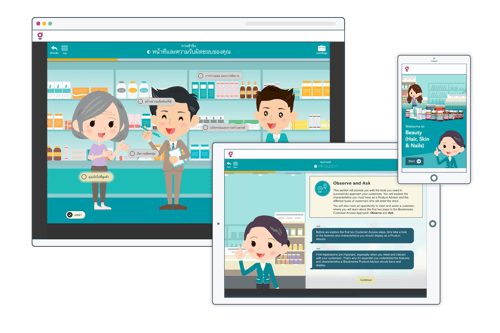 The Learning Journey:
The learning journey was broken down into modules and released in two phases to ensure learners were not overwhelmed by information.
Phase one follows a progressive learning pathway and encompasses the program induction and company knowledge section as well as key product areas on immune health, vitamins and minerals and inflammation.
Phase two comprised additional modules broken down into a sales guide, beauty and the nervous system.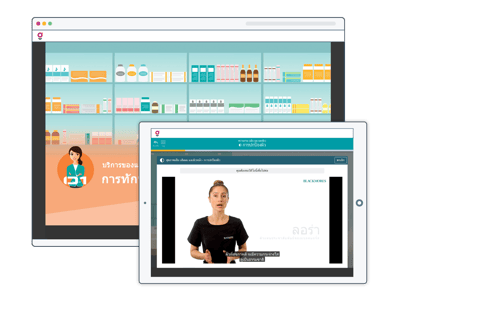 This easily digestible bi-lingual design format was enhanced through the integration of a simplistic character chat system, educational videos, fact sheets, interactive product images and range cards that allowed learners to seek further elaboration on key concepts. Additionally, the inclusion of scenario and question-based knowledge checks augmented the learner experience by providing participants with the opportunity to put their newly acquired knowledge into practice.
Results:
By incorporating educational content alongside knowledge testing, Blackmores was capable of measuring the overall impact of the program, therefore producing quantifiable results for the organisation. Moreover, while improvements to confidence are generally difficult to define, the incorporation of choice-based scenarios enabled learners to apply their understanding in situations that imitated real life, therefore allowing them to become more conscious of their strengths and weaknesses when advising and develop strategies that would ultimately improve customer satisfaction.
98% of product advisors completed the course within one month of launch.
84%

would recommend Blackmores training program to others.

100%

stated that the training delivered on its goals by enhancing their

confidence and skills.