Budget Hearing Care (BHC) seeks to connect people with the world around them by offering their clients an accessible and affordable, ready-to-use technological solution to achieve better hearing.
Operated by Australian owned company MediPro Technologies, BHC's sound amplification devices envelop much of the same technology as high-end hearing aids, without the associated expense.
Despite the inherent technical capacity of its products, BHC identified a knowledge gap among pharmacists and pharmacy assistants regarding hearing difficulties and the products available to improve them, ultimately enlisting Guroo Pro to develop an eLearning solution that bridges this gap.
Problem:
Despite the prevalence of hearing loss within Australia, particularly among the ageing population, it often does not receive the same attention as other medical conditions, leading to the effects on overall health being overlooked. As such, BHC communicated the importance of developing a learning program aimed at providing pharmacists and pharmacy assistants with an understanding of hearing health and equipping them with the tools necessary to assist consumers in their decision to purchase a personal sound amplification device (PSAD).
Solution:
Guroo Learning created a dual-module learning experience intended to educate pharmacists on the detrimental impact of hearing health on overall physical and emotional wellbeing, the signs, common causes and effects of hearing loss, how PSADs work in terms of fit and services, and when to refer clients for additional medical assessment.

Consisting of educational videos and FAQs developed to equip learners with the ability to engage in informed conversations with consumers, and scenario-based training and questionnaires to boost engagement and enable the application and testing of information retention, the program provided a comprehensive and interactive experience that delivered on project objectives.
Goals and Objectives:
Product Training
Train pharmacists and pharmacy assistants on when to recommend a PSAD
Inform participants on how PSAD's function and how to fit them
Hearing Health Training
Provide pharmacists and pharmacy assistants with a broader understanding of hearing health allowing them to recommend customer solutions
Personas
Inbuilt personas were created to emulate the characteristics of the typified learner
Diverse levels of expertise and experience among participants
Reasons for engaging with the program were varied
Program Requirements
Two 5-10minute modules and videos
Hosted on the BHC website with potential for tracking later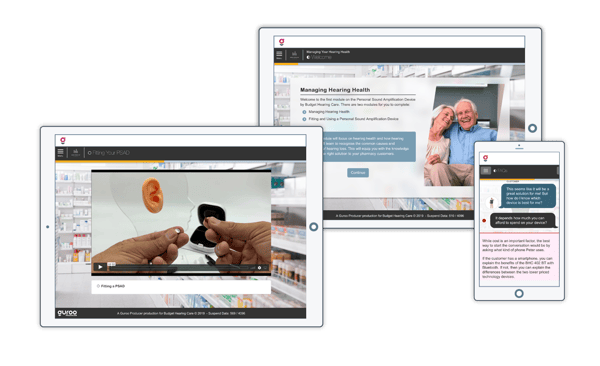 The Learning Journey:
The Learning Journey encompassed two core educational modules, Managing Hearing Health and Fitting and Using a Personal Sound Amplification Device.
The modules consisted of various elements intended to supply and subsequently apply information. These methods included, scenario-based learning activities, appertaining to the FAQs, educational and instructional videos delivered by industry professionals, and knowledge-based questionnaires to measure learner engagement and determine the overall value of the program.
The linear click-through progressionary model allowed for simplistic navigation through the modules while the incorporation of scenarios and characters, intended to emulate real world consumer conversations, allowed learners to put their skills into action in an unscrutinised digital environment and determine what areas required further elaboration by revisiting the FAQs provided.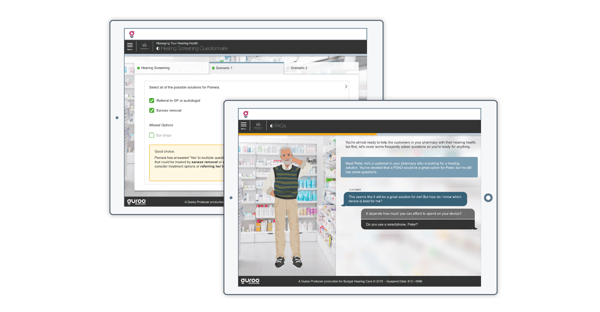 Results:
Despite incorporating multiple complex elements, including a complete video production process, prompt and concise communication with key stakeholders allowed for the program to be completed with speed and efficiency. Along with other programmatic elements, the incorporation of scenario based learning and knowledge testing was effective in creating measurable results and ensuring that all organisational objectives were met.
All aspects of the program were completed within a two week time frame.
Key decision makers believed the program to be successful at delivering on objectives
The need for face-to-face learning was reduced as a result of the program